What would you like to study? What kind of career would you like to pursue? Ultimately, what kind of life do you want to lead? As you start your studies, whether it's a bachelor's or a master's program, you're paving the way for your career, future, and life. The university, as well as the program you choose, will have a significant impact on your path.
As a way to support you in this major decision, Jacobs University is awarding a full-tuition scholarship to two students. Both undergraduate and graduate students are eligible, regardless of financial background.
What you need to know about Jacobs University – and the scholarship
Jacobs is an English-speaking, private university located in Bremen, Germany. What's so special about it? The vibrant community! With students from more than 115 nations on campus, it's fair to say that Jacobs is the most international university in Germany. Being part of this Community will broaden your horizons, expose you to different opinions, and provide opportunities to make deep connections and friendships that will last a lifetime.
For students looking to start their studies in fall 2022, Jacobs is awarding the following scholarships:
One full-tuition scholarship worth 60.000€ for an undergraduate student
One full-tuition scholarship worth 40.000€ for a graduate student
Who is eligible for the scholarship?
Are you a well-rounded person? Do you have excellent academic potential? Are you creative and engaged in extracurricular activities? Do you have a multicultural mindset and a strong drive to make a difference in the world? If yes, then one of our scholarships might be yours! The scholarships are merit-based, but every applicant (undergraduate or graduate) will automatically be considered.
How do you apply for the scholarship?
It's super simple:
Step 1: Visit the Jacobs' scholarship-page to see the required documents
Step 2: Complete your application for admission by April 1, 2022.
There is no application fee to apply to Jacobs. So apply now!
Additional financing offers at Jacobs
Jacobs strives to make education an affordable reality for students across the world. The university offers all students personalized financing offers, aside from the full-tuition scholarships for undergrad or graduate students. These offers consist of academic achievement scholarships based on grade point average (GPA), need-based grants, and tuition deferrals. You'd only start repaying the deferred tuition fees once you've successfully entered the job market. This allows you to focus completely on your studies. We know that a Jacobs' education will give you the perfect foundation for your future career – that is why we are happy to invest in you
Need more reasons to apply and potentially score a scholarship?
Adriana (from Honduras, Class of 23) chose to study at Jacobs for her bachelor's degree in International Business Administration. She loved the Jacobs' spirit so much that she decided to complete her master's at the university as well. A full-tuition scholarship made it possible for her to stay and continue her education further.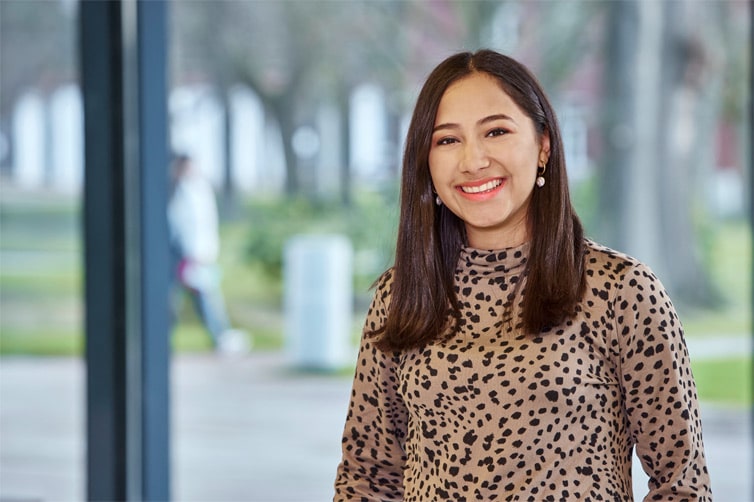 "This scholarship gave me the opportunity to continue my studies abroad while gaining job experience in the German market. Pursuing a master's degree has been an interesting challenge that made me see problems from a different perspective. So, to someone who is now applying for a scholarship at Jacobs I would say: Trust your qualifications and talent! Never underestimate your extracurricular activities as these may open doors for you in places where you would never expect. And don't be afraid to be bold in planning your next step after graduating Jacobs."
By applying and getting accepted to Jacobs, you'll study at a university that consistently achieves top scores in national and international university rankings. Jacobs is among the top 30% of universities worldwide. It is also Germany's #1 university in terms of international outlook, which will set you up for excellent global career opportunities.
Get a glimpse of the life at Jacobs:
Important facts about Jacobs University – at a glance:
Jacobs is a private, state-recognized university in Bremen, Germany
Language of teaching and research: English
A wide variety of top-ranked programs are offered: the International Foundation Year, 15 Undergraduate Programs (Bachelor), and 3 Graduate Programs (Master). From a bachelor's in Robotics to one in Society, Media and Politics – from a master's in Supply Chain Management to one in Data Science for Society and Business
Students profit from small classes and an excellent student-teacher-ratio
Separate from the full-tuition scholarship for undergrad and graduate, students also have the chance to get funding through an academic achievement scholarship
Jacobs offers financial aid packages to all undergraduate and graduate students
The post A Scholarship for Your Future appeared first on StudyLink.
Article link