The MSc in International Food and Beverage Management is a 15-month full-time program offered by ESCP Business School, designed for those wishing to pursue a successful career in the Food and Beverage industry as entrepreneurs or company managers.
In 2019 this master was ranked 2nd worldwide in the food and beverage sector (Eduniversal ranking), for the quality of the programme, internationality and collaborations with the industry's leading companies.
Why choose this master:
A 15-month full time programme, entirely in English, which takes place across France and Italy, two countries of excellence for the Food and Beverage sector.
Balance between managerial training and technical skills in the food and beverage sector
Multi-cultural classes: more than 80% international students
20 days of industry-specific in-company experience, where you will meet top managers and participate in practical workshops
One week at ALMA, the world's leading school for Italian cuisine
Opportunity to obtain the German Master of Science by attending an extra semester at the Berlin campus.
Structure of the Master
The Programme is characterized by its innovative approach, offering direct experience in the sector through company visits and new
collaborations every year with leading companies in the industry (e.g. Barilla, Granarolo, Lavazza, Ferrandi, Danone, Loacker, Ferrari Trento, Maina…).
The 2019 class had the opportunity to take part in completely new company visits: like the one at Loacker in Trentino, where
students took part in a practical workshop that allowed them to experience first-hand strategies and techniques and create their own personalized wafer. Another new company visit was to Dr. Schär, world leader in gluten free products. This brand-new collaboration represents the direction taken by the programme towards sustainable, organic and food intolerance-friendly nutrition.
The structure of the course and the subjects studied guarantee the acquisition of transversal general management skills and
vertical expertise in the food and beverage sector: the perfect mix to fit into structured corporate contexts or to give life to one's own entrepreneurial idea thanks to a professional profile that is both managerial and highly specialized.
Requirements to join:
Full-time availability from September 2020
Bachelor or Master's degree in any discipline
Fluent knowledge of English (C1 level)
Previous work experiences in the sector will be
considered a plus but are not mandatory.
The next deadline to participate in the selections is 8 APRIL 2020: contact us to receive a free consultation and CV check from our admission team.
To request more information about the Master from our team and find out more details visit the IFBM Master section!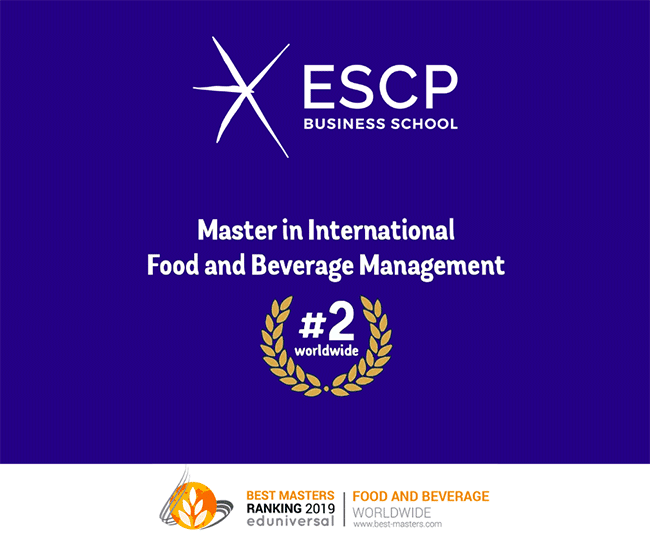 The post Master in International Food and Beverage Management from ESCP Business School: 2020 news! appeared first on StudyLink.